Saturday 27th and Sunday 28th May 2017
The Saturday and Sunday of the Bank Holiday weekend at the end of May is when Taste Cumbria comes to Ulverston, Cumbria's 'festival town'.
Every year we host a big producers' market, loads of free expert demonstrations, a hot food court, and plenty to keep even the littlest foodies happy. With the generous support of Ulverston Town Council, plus brilliant partners like the team from Ford Park and the local businesses, this is a great place to take the family.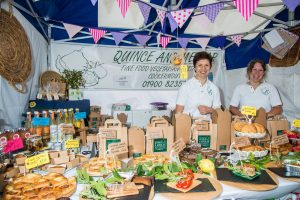 New for 2017 was an exclusive pop-up restaurant, courtesy of Michelin-starred chef Kevin Tickle from The Forest Side at Grasmere. He and his team transformed the Hoad, Ulverston's famous monument, for an intimate dinner for invited guests. Next year, there are plans to launch an Ulverston pop-up on a much bigger scale – though the venue is still under wraps.
Friday, 28 July, 2017 and Saturday, 29 July, 2017
Friday 10am- 9pm
Saturday 10am – 5pm
Taste Tynedale is Taste Cumbria's 'little sister' festival and takes place in the lovely town of Hexham. After two years, it's really getting established as one of the North East's most exciting food and drink events,
attracting thousands of visitors to the producers' market, beer and wine festival, chef demonstrations, live music, picnic area and children's activities.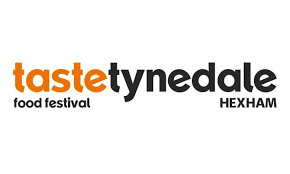 With our partners, Hexham Town Council and the Hexham Courant, we want to position Northumbria as another fabulous food tourism destination, showcasing its food heroes and food culture, and bringing great Northumbrian produce to an even bigger audience. The event is held in association with the Hexham Courant and is sponsored by Hexham Town Council.
TASTE CUMBRIA COCKERMOUTH
22nd – 24th September 2017
Established in 2010 Taste Cumbria is the county's biggest annual food and drink festival. The annual flagship festival in Cockermouth sees local shops, restaurants, chefs and foodies join forces for a weekend long culinary celebration. Attractions include; a produce market, picnic area, FREE children's activities, comedy night and live chef demonstrations and masterclasses, it is a real foodie treat.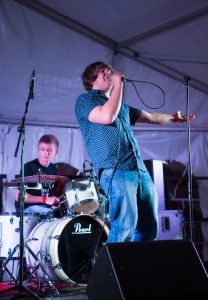 For more information visit: tastecumbria.com